We played in our final competition, Silicon Valley Regional, last weekend. Going into SVR, one of FIRST's most competitive regional competitions, many of us were unsure how we would rank and if we would qualify for worlds. But through our persistence and hard work, we performed much better than we expected.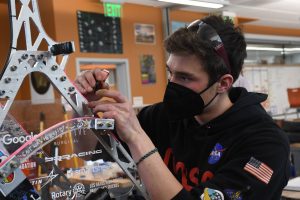 The SVR grind began two weeks earlier, right after we competed in the Monterey Bay Regional. Our performance was extraordinary compared to previous years and we ranked 4th at the end of the qualification matches. We only needed some minor changes to our climb before we focused on improving our cargo mechanism and decreasing cycle times. The weekend before SVR began with a rapid round of prototyping to modify the geometry of the claw. The side plates that held on the shooter wheels would hit away cargo and made it difficult to reliably intake cargo, even with a ball chasing program. As a result, we modified our side plates to include slight cutouts that increased our acquisition zone significantly. In addition, our limelight, which was mounted directly on the claw, got damaged at MBR so we refashioned a new mount that protected it from impact.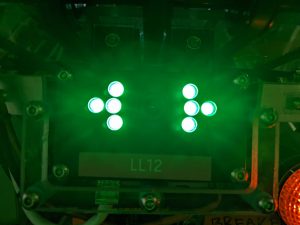 .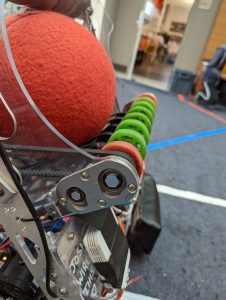 Once the cargo fixes were done, the robot was handed off to the programmers so they could finish tuning the arm rotation, alignment, and shooting. We spent multiple days at Saratoga, the home of team 649 MSET Fish, using their field to perfect our programming and give Ryan, our driver, as much practice as possible. Finally, we were ready on Wednesday to pack up our robot with our newly improved claw and reliable 3 ball auto. Unfortunately disaster struck an hour before we were scheduled to pack when we found the rivets holding the claw onto our robot were loose. In a last minute fix, we drilled out all the rivets and replaced them with fresh ones.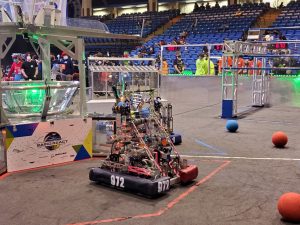 Our first day at SVR was filled with practice matches where we worked on more autonomous routines and driver practice. We felt confident in our skills and we were ready for the qualification matches. However, our first couple of matches on Saturday resulted in losses because we had some bad matchups. Despite our alliance member's robots struggling, we were able to score 45 points on our own, over half of the opposing alliance's total points. We slowly climbed up the ranks in the qualification matches and eventually ended up 14th with 5 wins and 4 losses.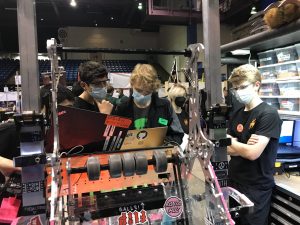 ​​
Alliance selections were extremely exciting with two teams in a row declining to be on the 4th alliance. During alliance selections, we were chosen by the 6th alliance captain MSET Fish and won two matches back to back against the 3rd alliance in the quarter finals. We performed exceptionally well and outscored them by a sizable margin. The dream of worlds was close, but our next opponent was alliance number two with teams 971 and 604, both who have qualified for worlds numerous times. Even with the difficult matchup, we fought hard and nearly beat them in our second match. We lost by only 5 points and one mentor from 971 was even overheard saying the match was "too close for comfort". We were unfortunately eliminated in the semifinals, but our robot's performance surpassed all our expectations.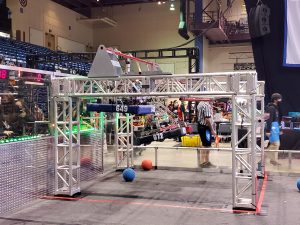 All in all, our season was extremely successful, especially given the nearly two year long break where we couldn't do robotics at all. Even with SVR being the conclusion to our season, we still look forward to off season projects and competitions. We bounced back from our many struggles and had a fantastic season overall.