Last week, our team competed in the FIRST Robotics Competition (FRC) Championship in Houston from Wednesday April 19 to Saturday April 22.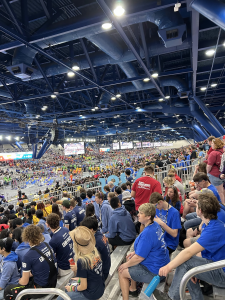 In the George R. Brown Convention Center
Out of the over 3250 teams in the world who participate in FRC, only 620 qualify for Houston, where the best of the best compete to see who will become world champions of FIRST. Teams compete in 8 divisions of about 77 teams. Our team was in the Archimedes Division, which included several of the best teams in the world, including defending world champions 254 and 1619, several Hall of Fame teams, and other high-ranking teams such as 2056, 6036, 111, 1577, and 2468.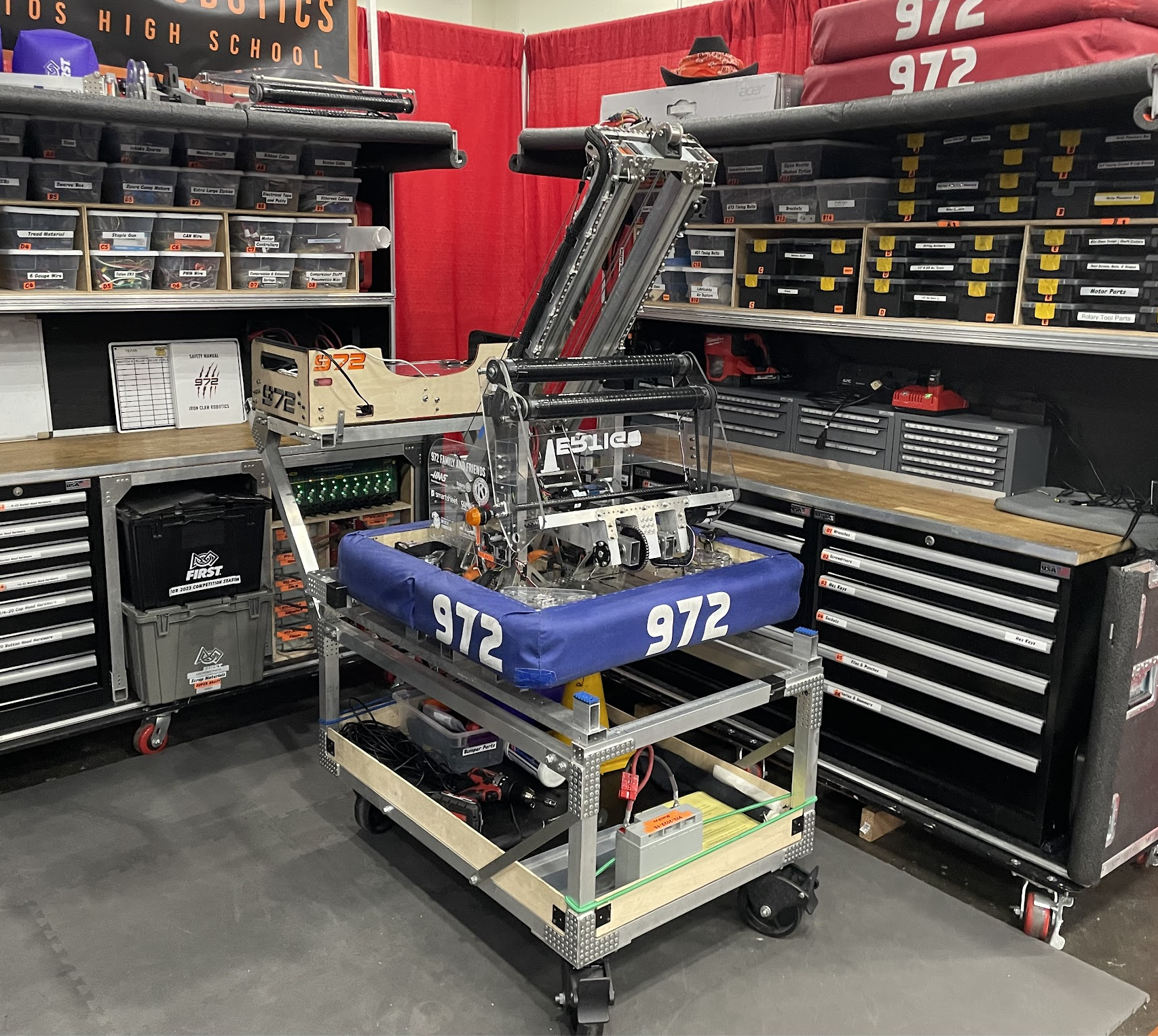 Our robot in the pits after unloading
Before competing with the best teams in the world, our team made sure that our robot ("Vertigo") was at its peak condition. Prior to the competition, we had been testing and perfecting several autonomous routines for our matches, mainly three-piece auto and over-the-charge-station auto engage. On the mechanical side of things, the electrical team hot glued all the electrical connections to make sure no disconnections would happen mid-match, and we had also added LEDs to our robot for better communication with our team members and human player during teleop routines. Furthermore, our drive team had also practiced relentlessly before our competitions to maximize efficient operation and communication. This greatly improved our performance in our matches and helped boost our ranking in qualification matches.
Due to financial constraints, we were unable to take the entire team of 49 students to Houston. The 21 students who were selected were split into two travel groups. The first group arrived in Houston on the evening of Tuesday April 18, with the second group arriving the evening of the next day. On Wednesday April 19, our team focused primarily on unloading our robot and pits, which had been delivered in a semi-truck, courtesy of Paul Hardy from 4135 Iron Patriots, who was also in charge of delivering the robots of 12 teams in the Bay Area. For the remainder of Wednesday, our team tested our autonomous routines to make sure they were reliable and efficient, until our second group arrived in the evening. We had a filling and delicious dinner with our fellow district team 649 MSET Fish, who graciously invited us to eat dinner with them that evening.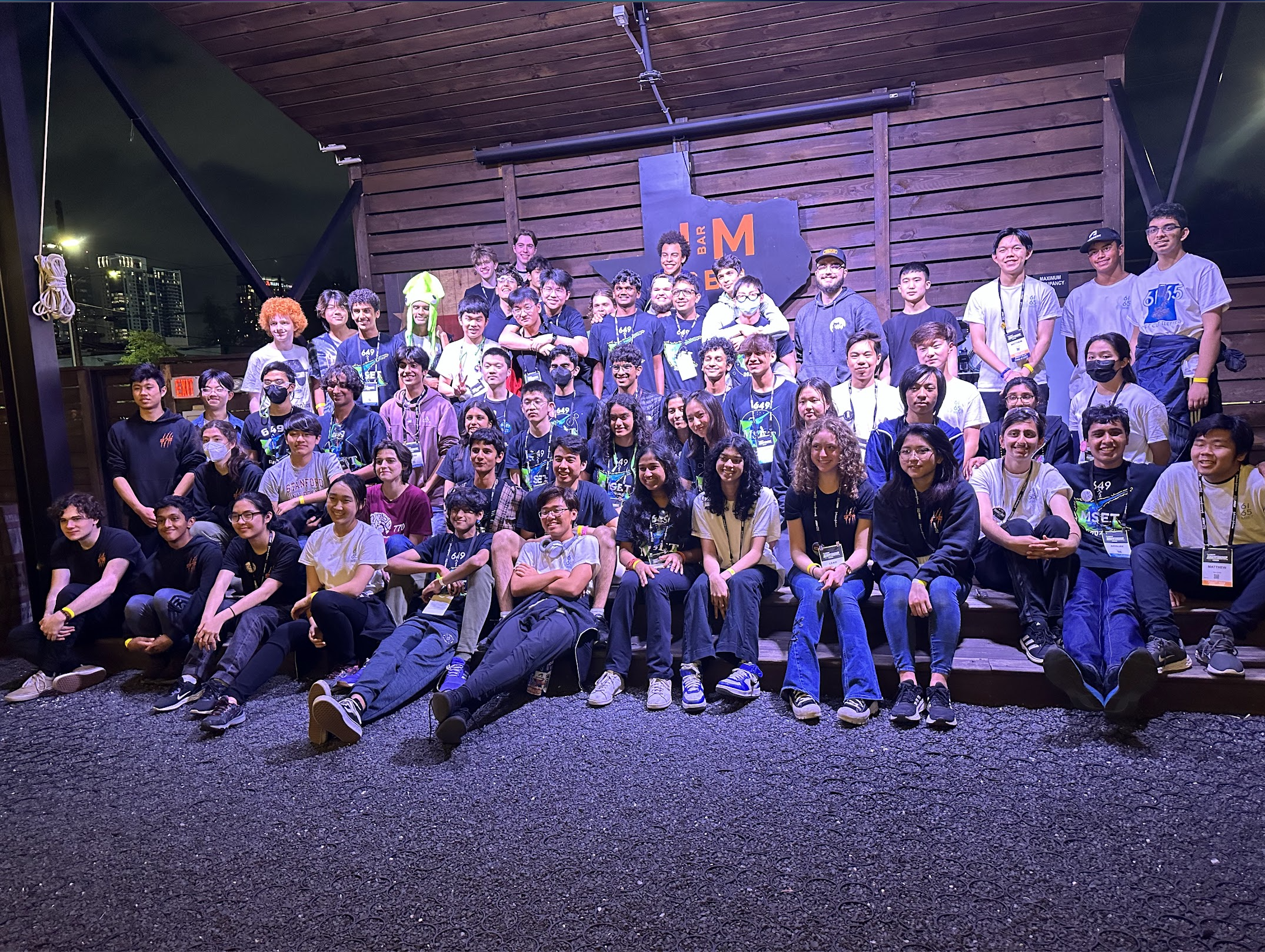 A wonderful dinner with 649 MSET Fish
Qualification matches were played on Thursday and Friday. Our team placed 26th out of 77 teams, which was a decent showing from our part. Most notable of our qualification matches included Qualification 20, where we took a close victory over our opponents by just 4 points, and Qualification 116, where we partnered with 6328 Mechanical Advantage and defending world champions 254 Cheesy Poofs to take a 6 point victory over the top ranked team in the world, 2056 OP Robotics, and their alliance partners 6002 ZooBOTix and 1574 MisCar.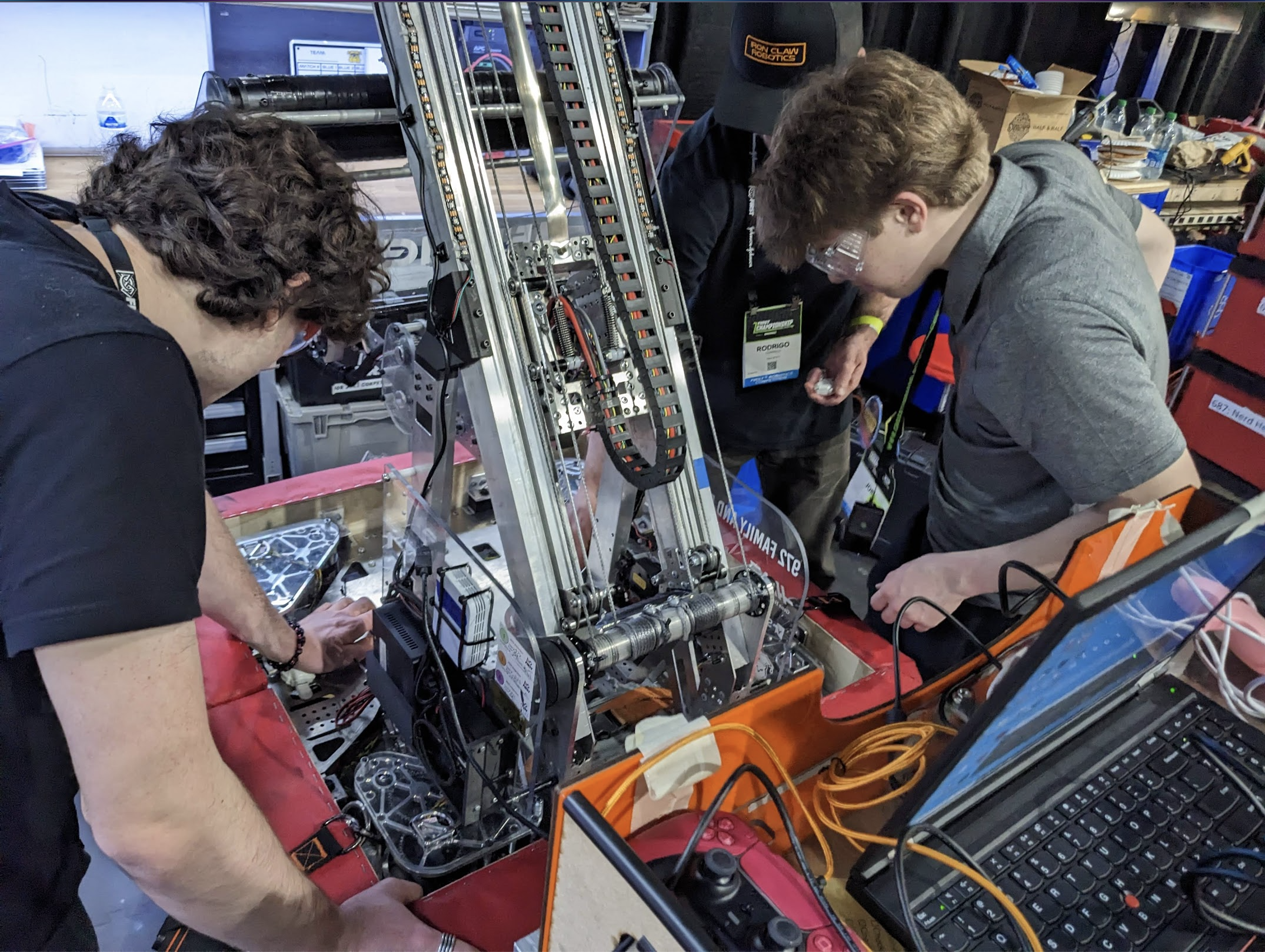 Inspecting and preparing the robot for our next match
Saturday was the third and final day of competitions in Houston, starting with alliance selection in the morning. Our team was the 2nd pick for Alliance 6, comprising of our alliance captain 8085 MOJO, 6328 Mechanical Advantage, and 687 Nerd Herd. We then moved on to our elimination matches, which took up the first half of the day. Our matches started on a low, with a defeat in our first match against Alliance 3, but our drive team's determination and immense talent helped them battle their way through the lower bracket, facing and defeating strong alliances. Most notable of our elimination matches include Match 9, where our alliance narrowly defeated Alliance 8 by 2 points, and Match 13, where the score tied at 200 to 200, but our alliance won through autonomous points, which secured us a place in the finals of the Archimedes Division against Alliance 3, who had defeated us in our first match. In our first match, we ended with a defeat of 155 to 192 after our alliance captain suffered a technical issue that prevented them from playing at their full capacity. Our captain then selflessly decided to sub in our backup team for our Final 2, where we won a high-scoring match of 207 to 179. In the Final Tiebreaker, our alliance captain decided to sub back in after resolving their technical issues, and in a close match, our alliance took the lead in the final few moments to win with a score of 179 to 150, making us the Archimedes Division winners of FRC in 2023.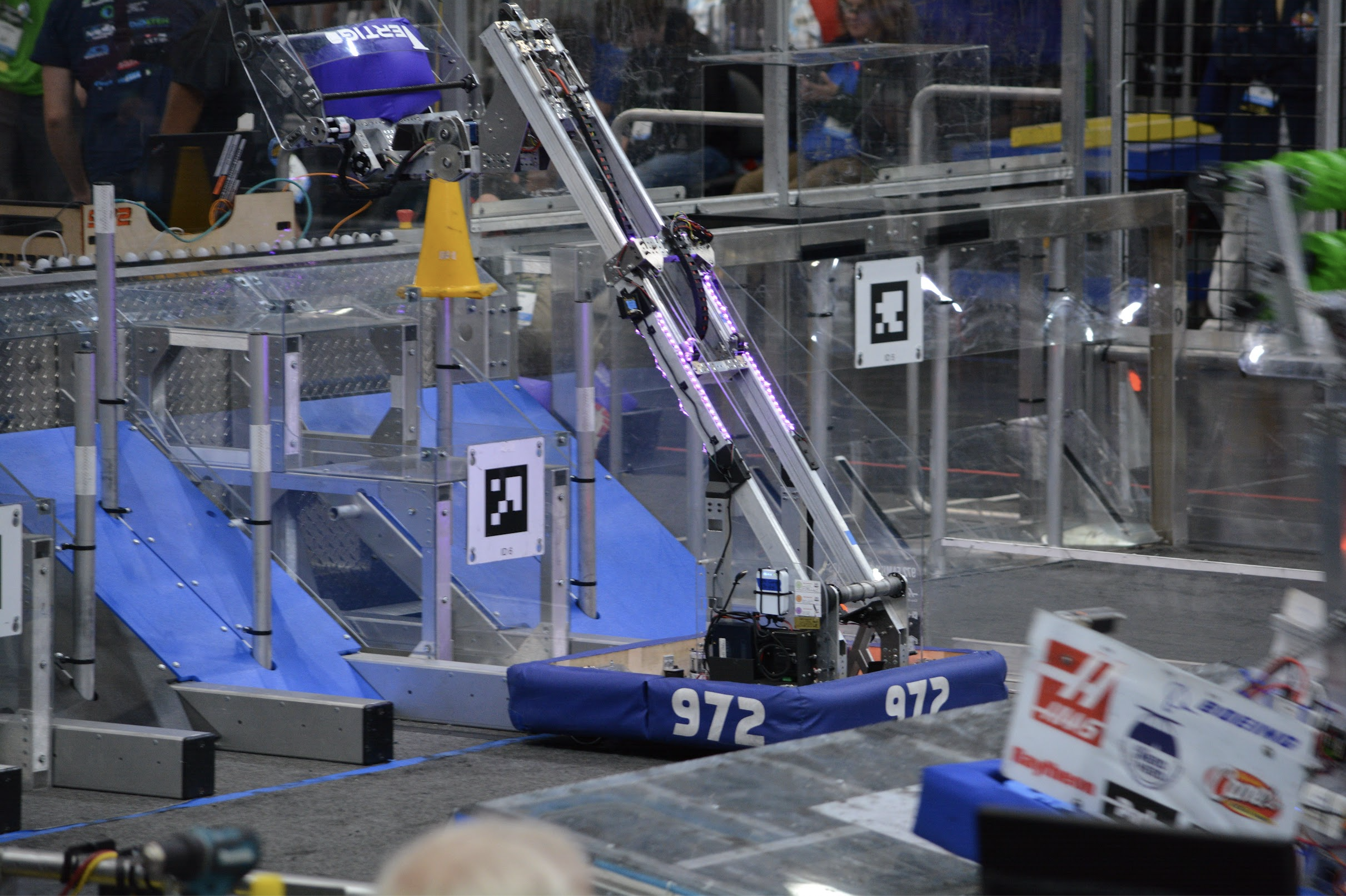 Depositing a cube in the high node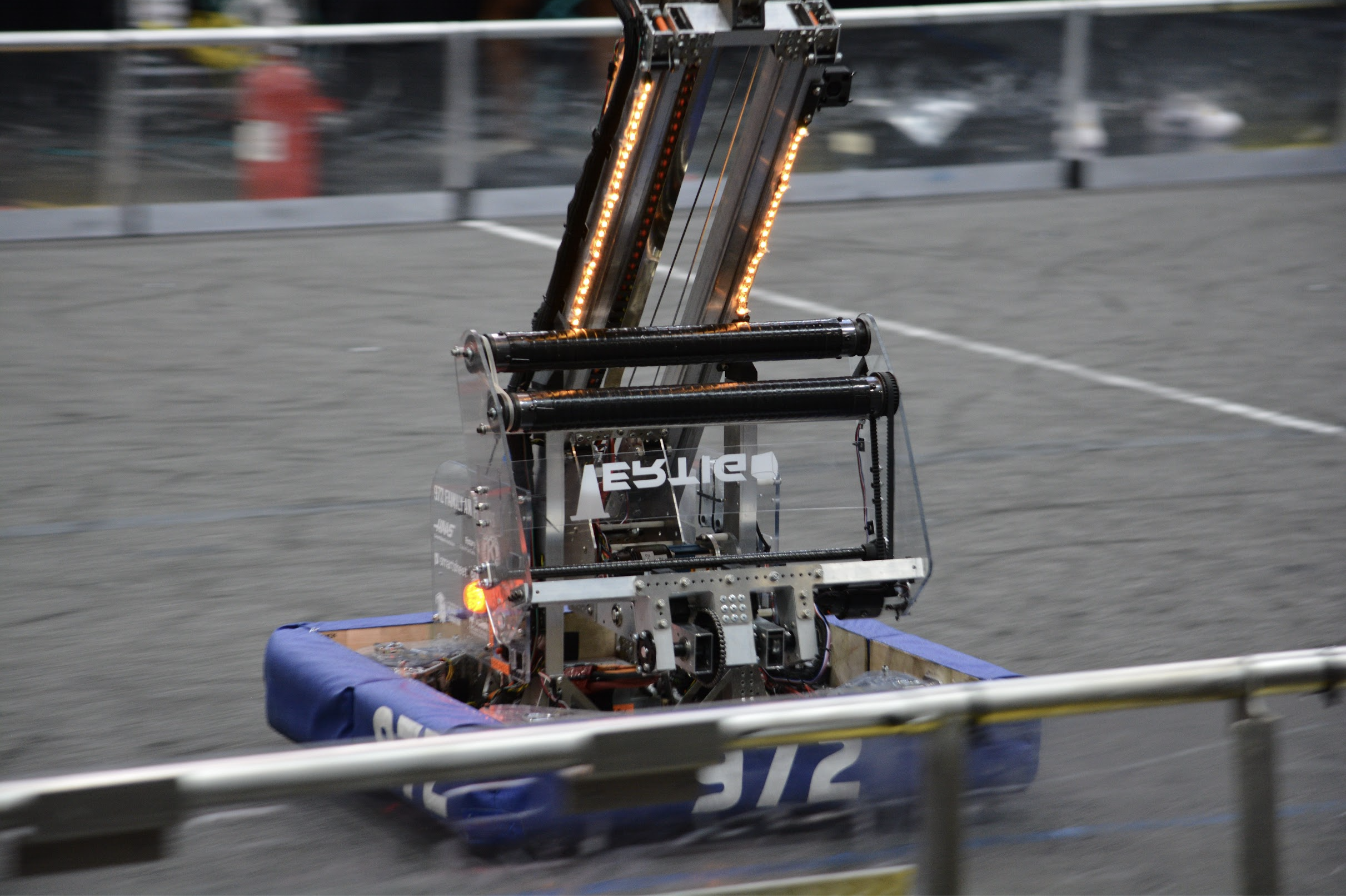 Racing across the field to get game pieces
With our Archimedes Division victory, we moved onto the final Einstein matches, where the winners of each of the 8 divisions competed in a double elimination bracket to see who would become the world champions in 2023. Despite valiant efforts, our alliance lost by just 2 points in our first match against Newton, and we were knocked out after an incident caused our intake to break mid-match against Galileo. Although we did not get as far as we would have liked in Einstein, our team still did an outstanding job at Houston. Winning the Archimedes Division amidst fierce competition is an exceptional achievement for our team, and our whole team is proud of our efforts and accomplishments in this unforgettable year.
As the 2023 season draws to a close, our team will be focusing more on our setup for next season. Further operations work on the team as well as elections for leadership positions next year will be taking place in the final few weeks of our school year, as we look ahead to push even further in the seasons ahead.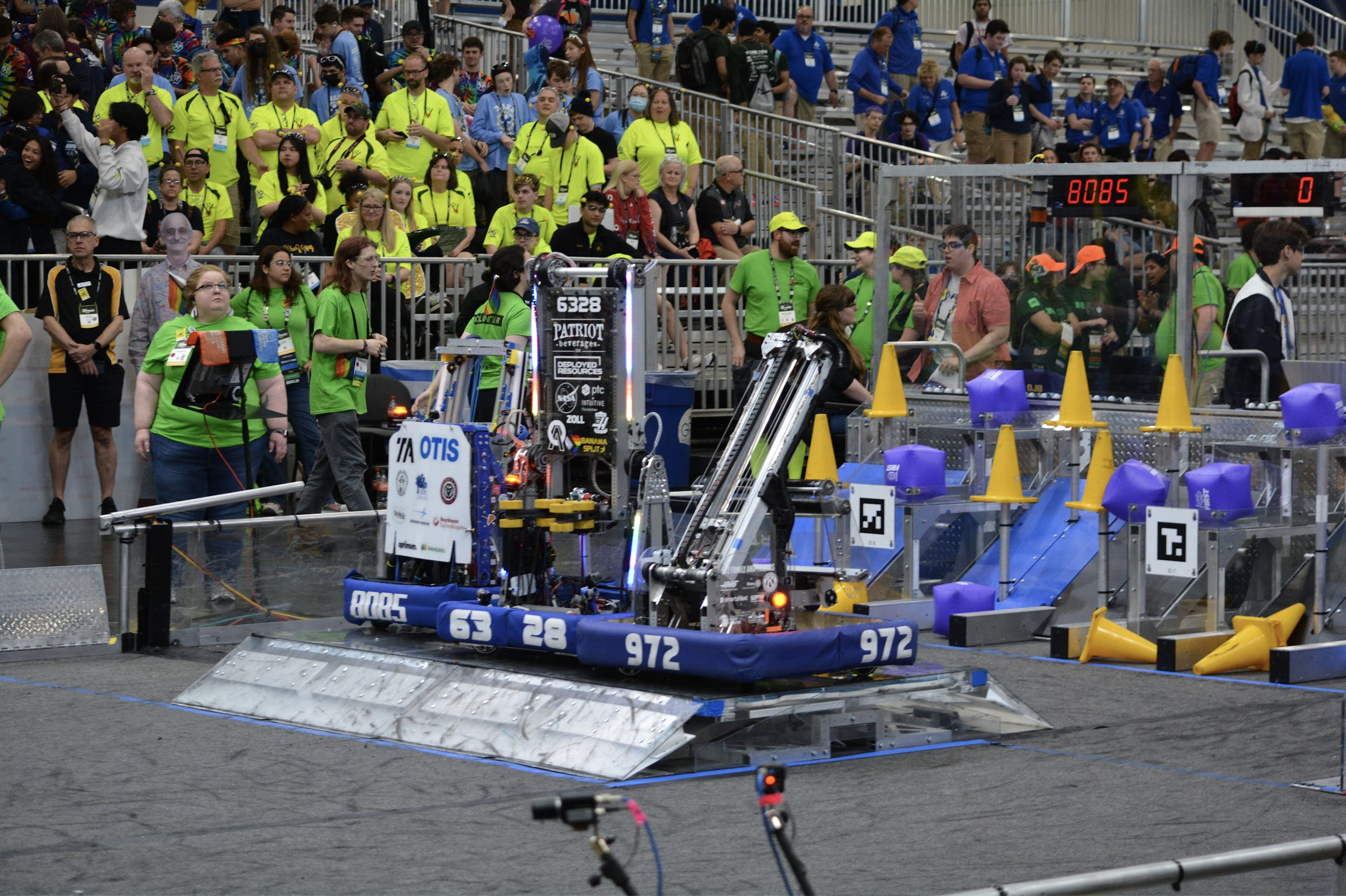 Triple engage with alliance members 8085 and 6328
Thank you so much to our sponsors: the Los Gatos-Saratoga Union High School District, the Wildcat Foundation, the Gene Haas Foundation, Smartsheet, Lynx Properties, Campus, the Rotary Club of Los Gatos, Kiwanis International, Intuitive, BRRacing, NorCal Robotics, and PG&E for making this year possible through gracious corporate grants and financial support. A big thank you as well to our 972 friends and family; without your kind hearted donations and enthusiastic support, we would have been nowhere near to our successes this year. We would also like to thank our Archimedes Division Alliance 6 members: alliance captain 8085 MOJO, 6328 Mechanical Advantage, and 687 Nerd Herd, for a champion performance throughout the entire competition. Thank you for this incredible experience, and we look forward to working with you in the future!