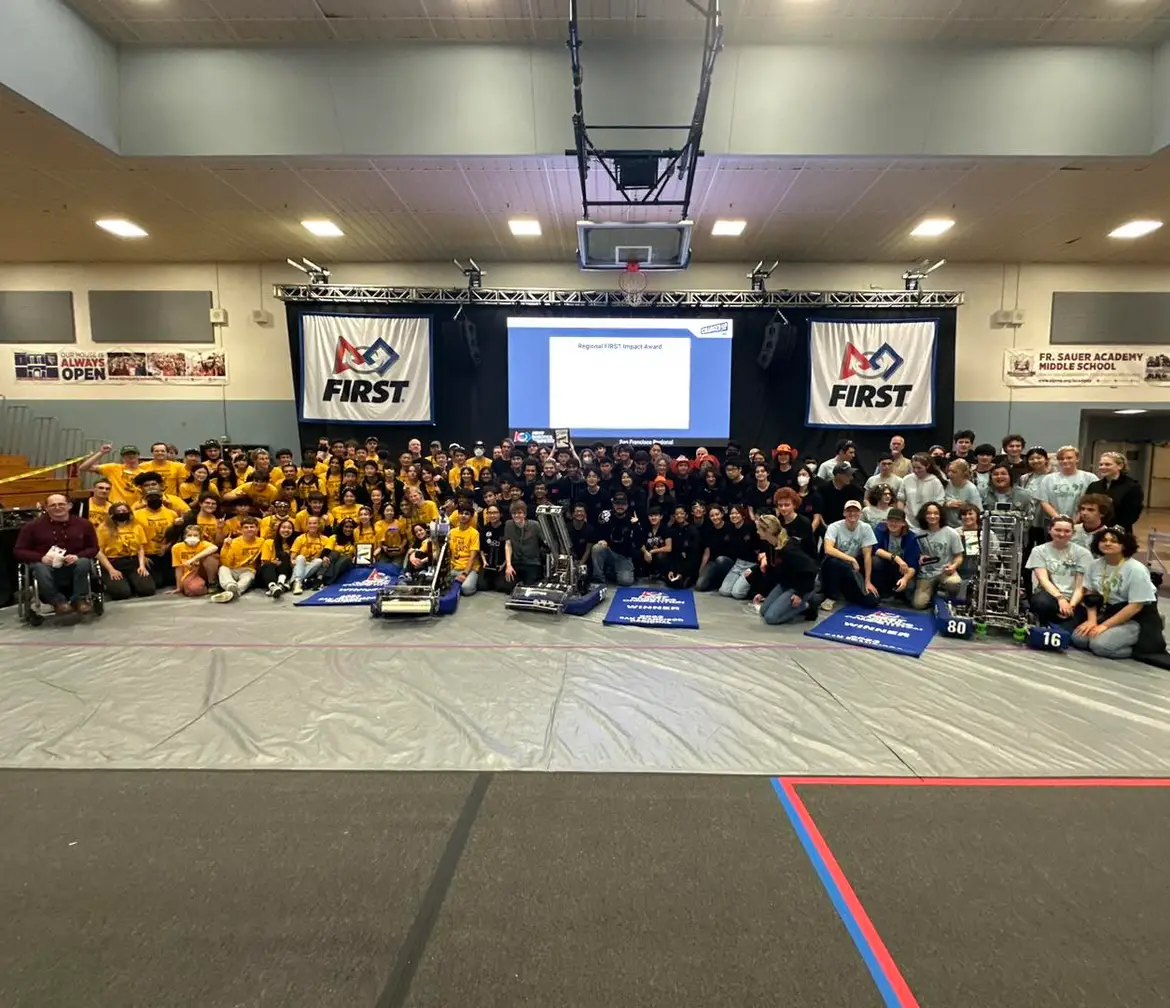 This past weekend, our team competed in the San Francisco Regional.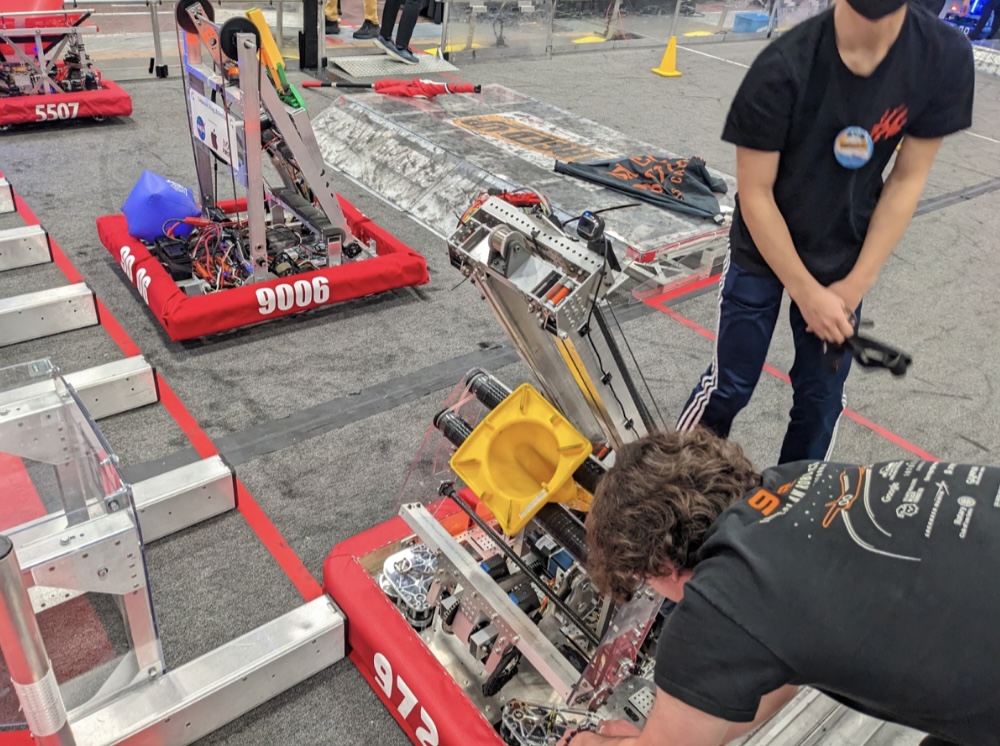 Placing the robot on the field at the beginning of a match
After setting up the pit and making minor mechanical adjustments to the robot, we focused on cycling practice matches to get as much driver practice as possible. During our practice matches we focused on playing with top teams such as 581, the Blazing Bulldogs, 971, Spartan Robotics, and 649, MSET Fish to gauge our robot and driver's synergy with other teams.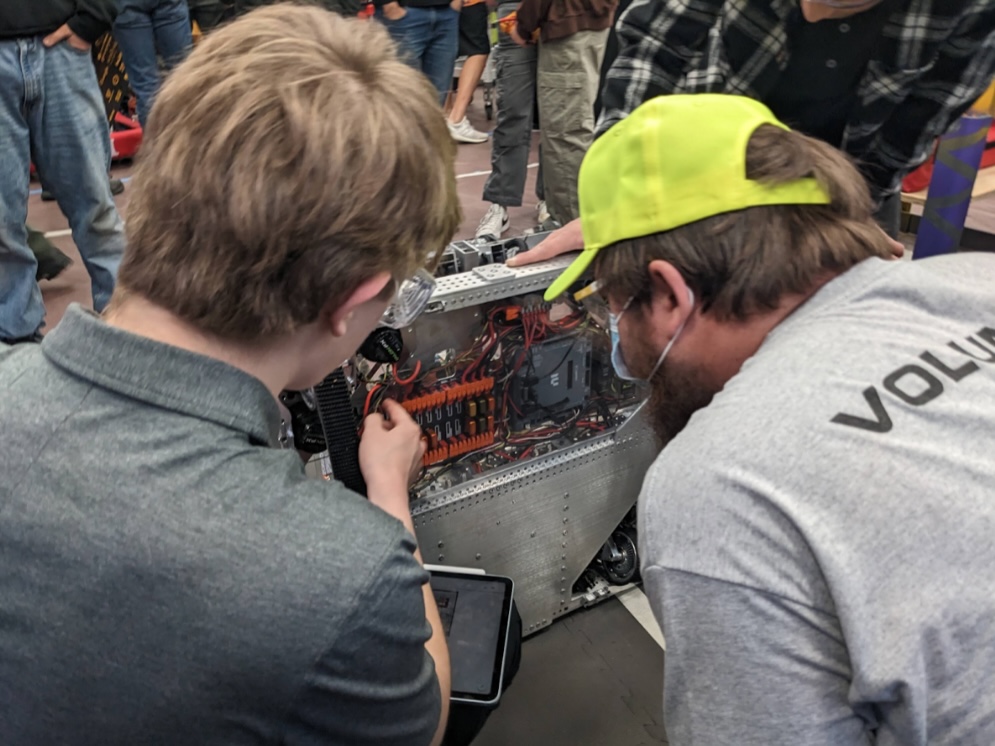 Walkthrough of electrical board during inspection
With our new roller intake/outtake and wrist, which we designed once we returned from the Hueneme Port Regional in week 1, we greatly improved our performance. Our new roller intake/outtake allowed for quick alignment and acquisition from the single substation, dramatically decreasing our cycle times, driving up our point scoring during TeleOP. Additionally, we worked on refining our Auto routines to allow for improved charge station engaging. Our robot scored well with fast cycle times from the single substation, and we were able to get our autonomous routine, consisting of one cone being placed onto the top node and then engaging on the charge station, working consistently. We ended the day on an optimistic note and were ready for the qualification matches on Saturday.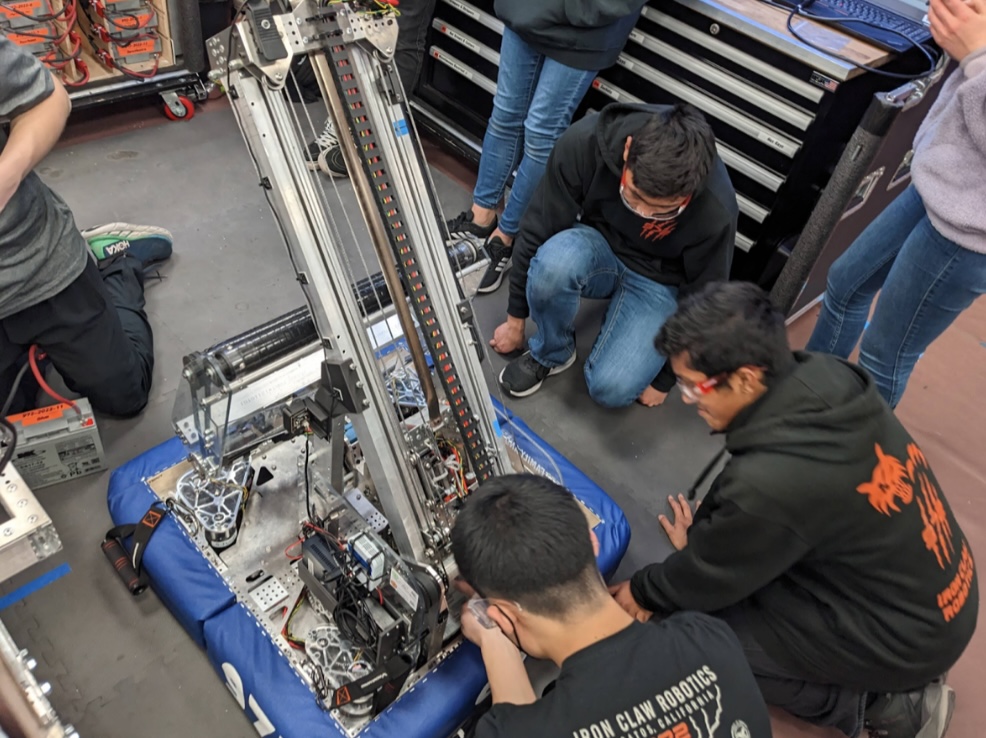 Systems check and elevator height calibration prior to practice matches
Throughout the qualification matches, we focused on scoring links in the top nodes and intaking from the single substation, occasionally we would collect cones from the double sub station platforms. We averaged scoring around eight game pieces every match with extra points coming from links and engaging during autonomous and the endgame. Despite having a well performing robot, our qualification match schedule had many difficult matchups for our alliances. Nonetheless, our Strategy Chief worked diligently to maximize ranking points with our alliance partners over the course of the qualification rounds. Our team was ranked 17th after the qualification rounds, and the team believed we had a good chance of being selected as a first round pick due to our quick cycle times and being able to reliably score on the top row of the grid.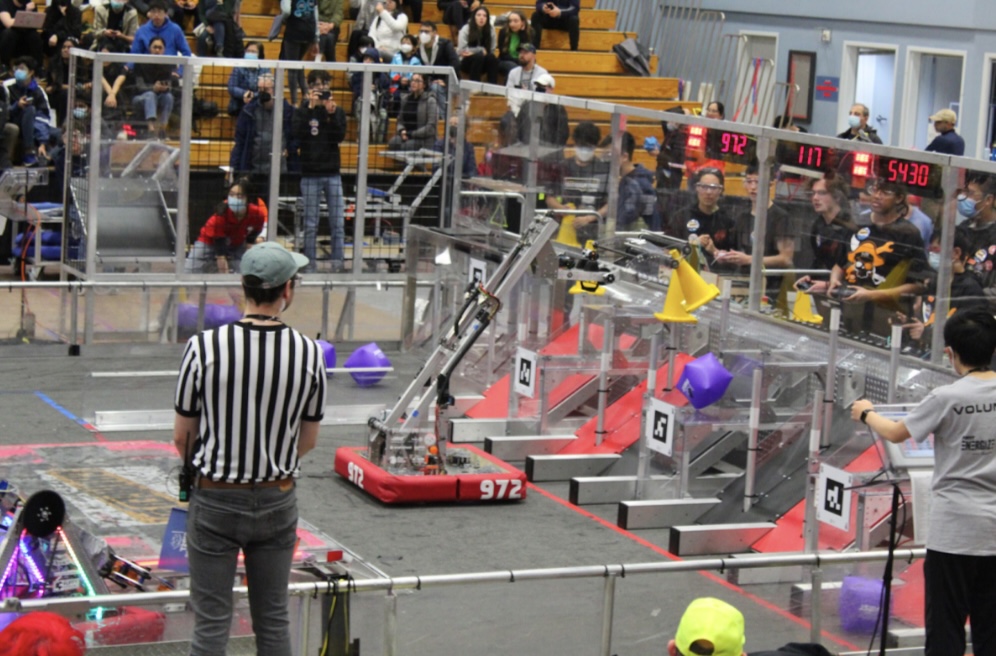 Scoring cone in high node
During alliance selection, team 971, Spartan Robotics, graciously invited us to join their alliance as their first pick, with team 8016, Eco Robotics as their second pick. Our alliance started off strong in our first few playoff matches. Although 8016 experienced mechanical failures, the combined offensive strength of our robot with 971's 5 degree of freedom arm, DOFFLE, led to our first few victories.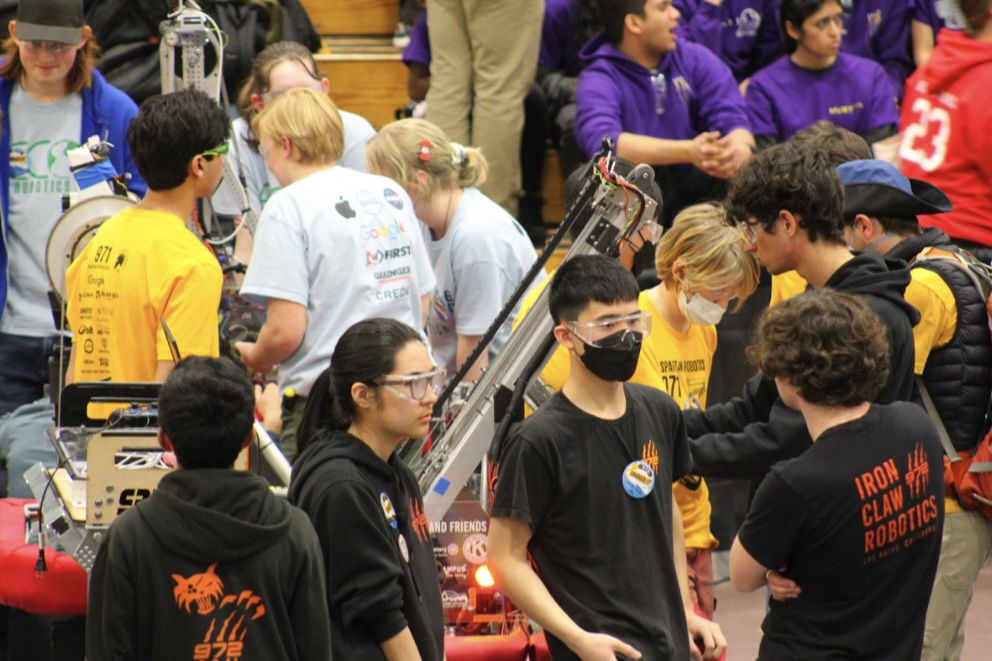 Waiting in queue with alliance members 971 ad 8016
Although 8016 managed to field their robot, their drivetrain broke down after a few matches and efforts by all three teams to repair it failed. 8016's dead drivetrain tragically led to our first loss in the playoff match 11 against the 4th seeded alliance, who we would later meet again in the finals. With our backup robot also out of commission, our alliance captain 971 made a very bold decision to only field two robots as we headed into the loser's bracket. Despite being down a robot, our alliance played a near perfect match and won the semifinal match against the third seeded alliance by a mere one point 146 to 145, our alliance was back in the finals. For the finals 971 decided to only field their robot with ours, the finals was going to be tough being down one robot.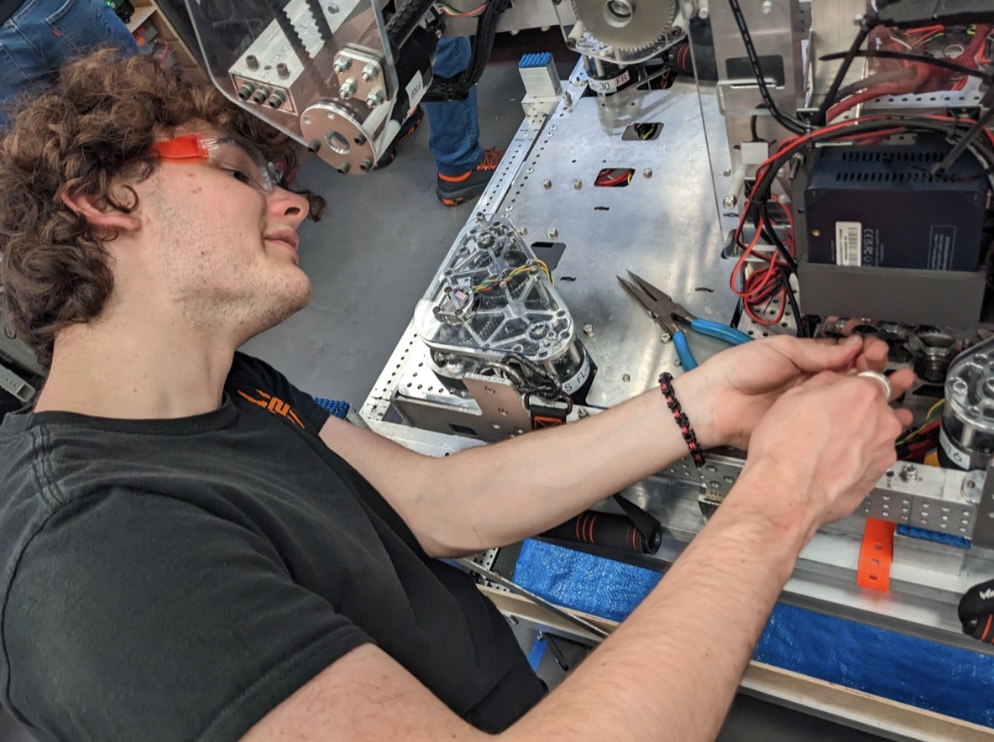 Checking for loose screws on the elevator gearbox
We finished the competition by winning the first match by 10 points and the second by over 50 points. In the end, our alliance won the 2023 San Francisco Regional taking home our first blue banner since 2018!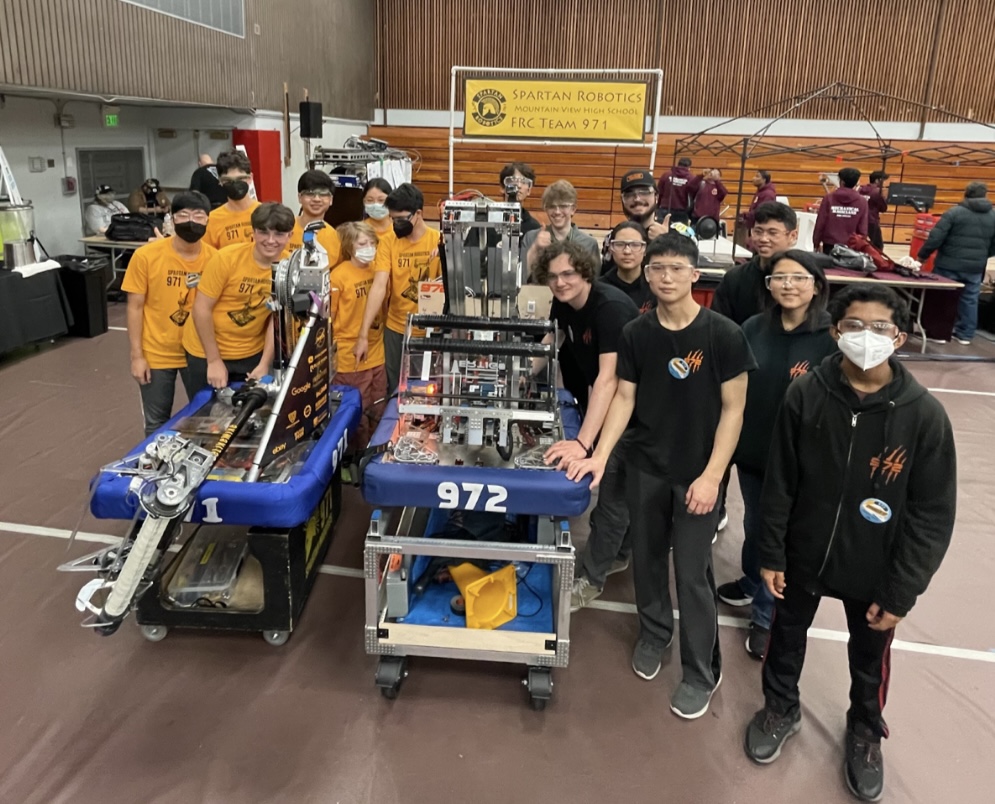 Photo with alliance captain 971
The San Francisco Regional proved to be a successful competition for our team, showcasing the improvements we made since our last event. Our team could not have achieved such success at the San Francisco Regional without the bold decision making and support of our alliance captains Spartan Robotics and the hard work and dedication of everyone on the team, especially the drive team and pit crew.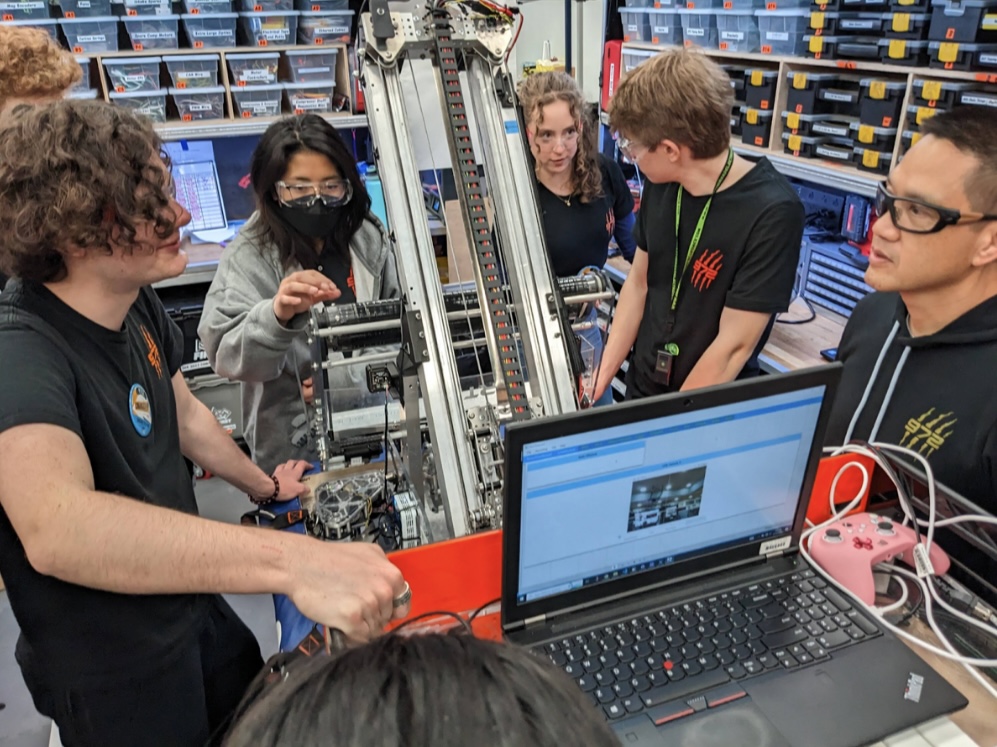 Post match pit debrief
Moving forward, we plan to focus on further refining our robot's performance by addressing some areas for improvement. These include making minor mechanical repairs, developing more complex autonomous routines, implementing vision alignment.As we prepare for the Silicon Valley Regional and the World Championship in Houston, we will continue to work hard to ensure our robot is operating at its best and that our team is ready to face any challenges that come our way.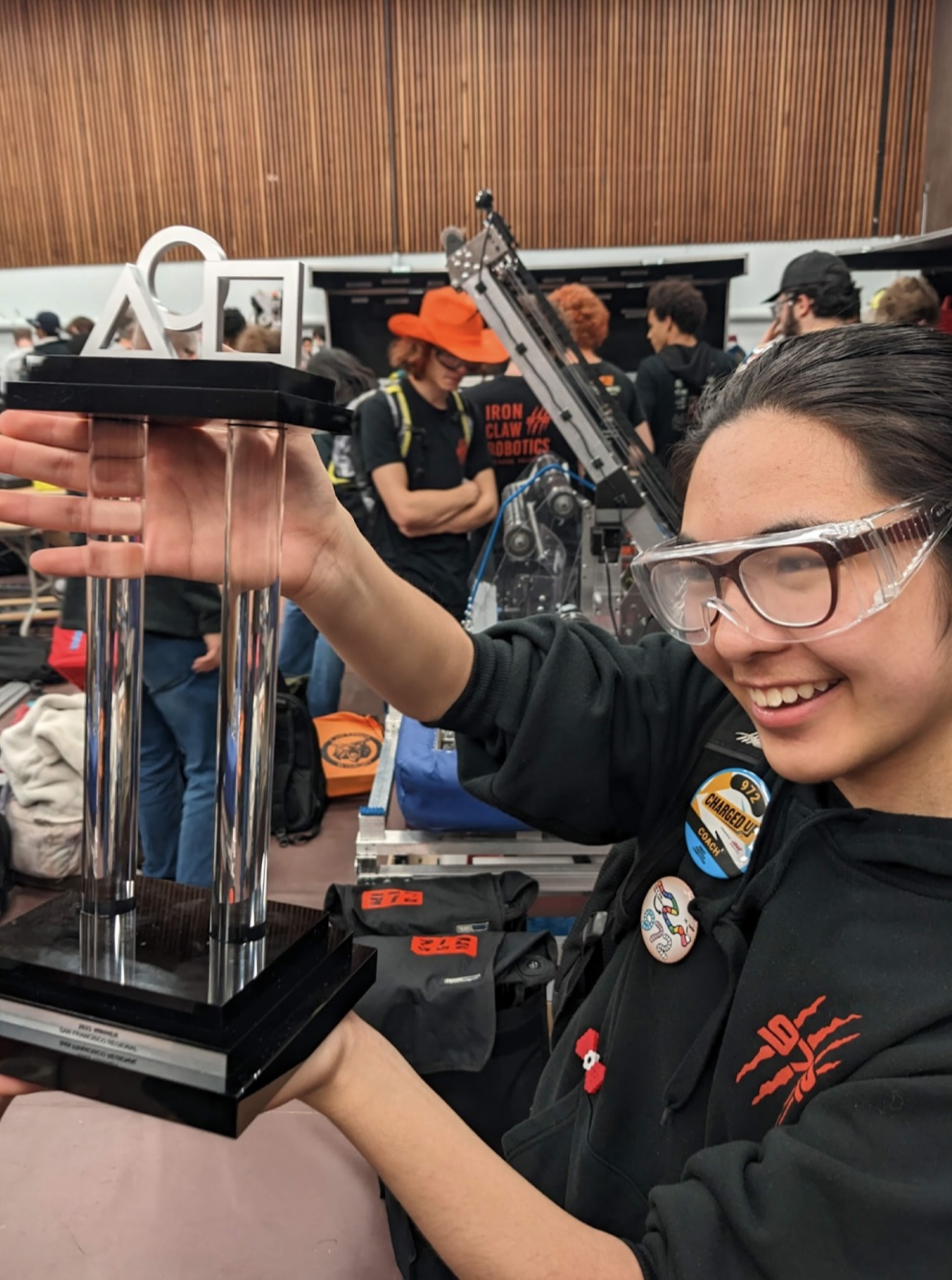 Drive Coach and Captain, Anglea Sheu, holding our trophy
Our driver displayed remarkable driving in our first playoff match, swerving around robots to score despite all the defense.
Match 3 (R1) – 2023 San Francisco Regional
Clutch Semifinal match where we won by one point with one robot down.
Match 13 (R5) – 2023 San Francisco Regional
Final 2, was another near perfect match with incredible cycle times for 971's robot and ours.