With the World Championship just a few days away, our team is busy making a few last minute changes that will hopefully further boost our robot's performance at Houston. 
After the Silicon Valley Regional, extra spares will be required for Houston, and that has been a focus for our mechanical team for much of the week. They've also worked on re-tensioning the elevator and cleaning out our swerve drivetrain as part of a maintenance routine on our robot. Additionally, to prevent any connection issues during matches, the electrical subteam has hot-glued the robot's connectors in the electrical board to ensure that loose wires won't be a problem. The most noticeable change to our robot is the new LEDs running down on either side of the elevator, which are useful for many things during a match, such as indicating the alliance color and signaling to our teammates about getting a cone or cube based on the color.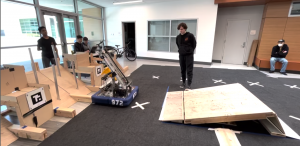 Our programming subteam is hard at work fine-tuning the elevator and intake to make our scoring more reliable and efficient. Most of their efforts have been on improving our autonomous routine during autonomous mode during our matches. They'vebeen trying different auto routines, such as three-piece auto and acquiring a piece by going over the charge station. Since we will be facing the top teams in the world at Houston, autonomous could make a huge difference in our matches. Additionally, the programmers tuned the wrist in order to reduce oscillation and prevent it from going over zero.
We are also ensuring that the drive team is consistently practicing. They are practicing the orientation for entering the Loading Zone, entering diagonally like team 1678, the Citrus Circuits, as well as aligning to the single substation. The drive team is also practicing defense and evading defense from other teams.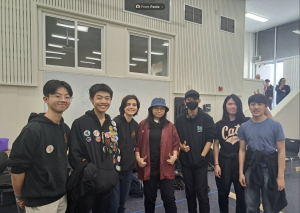 Aside from preparing for Houston, our team also paid a visit to our sister school, Saratoga High School, for a special meet-up with team 649, MSET Fish, and team 7099, Formosa Pangolin, which is a team from Taiwan. We exchanged technical expertise and experience with one another, and our students had a great time trading teamwear with the other teams.
Lastly, our team helped to pack up the pits and our robot and secured everything in our trailer. The robot is on its way to Houston, and so are we!