Last weekend, we traveled down to Port Hueneme to compete in our first regional competition. The week leading up to the competition was filled with challenges, but after finishing up our cargo arm and putting some finishing touches on our climbing mechanism, we packed up for the 5 hour drive.
We still had numerous challenges to overcome in the week leading up to the competition. Due to parts being backordered, our cargo arm was coming together slower than expected. The final days before competition were filled with programming and testing of intake, limelight alignment, and shooting. At the end of the week, we had a decent autonomous routine that shot one ball into the low hub and taxied out of the tarmac. Our arm was getting tuned for low hub shooting and the drive team was able to get in some practice time.
The climb was also recovering from some roadblocks. After testing our climbing mechanism, we found that the end caps of the thrifty bot elevators were shearing along the 3D printed layers. Our robot dropped like a rock in our first climb, but we redesigned and increased the strength of our endcaps, elevators, and hooks. Going into the competition, we had a solid mid climb and planned to test a high climb on the practice field.
Our first day at Port Hueneme was a warm up day filled with testing and practice matches. We worked on shooting and getting rid of bugs in the code. Our first few practice matches were filled with struggles, but throughout the day, our code became more refined and our drive team got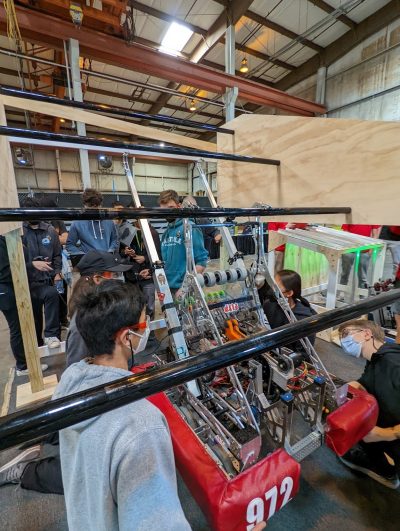 a better understanding of the limits of our robot. Using the practice field, we were able to perform our first unspotted high climb on Friday. We were also able to make it to traverse later in the day, but we could not replicate it in match.
In the qualification matches, we did not perform nearly as well as some other teams at Port Hueneme like 1678 Citrus Circuits or 973 Greybots, but we were able to use the time to gain a lot of in-game driver experience and troubleshoot any mechanical issues that arose in matches. We learned that our cargo arm's bearings would pop out after we got hit which would effectively cripple the entire mechanism. However we were able to collaborate with the other teams and added some hardware to hold the bearings in place based on Citrus' intake design. 
Towards the end of the qualification matches, we were scoring around 7 cargo into high hub every match and climbing consistently to mid rung. Our autonomous routine was also perfected to consistently shoot a ball into the high hub and taxi out of the way of other alliance members. It was a huge improvement from what we thought we were capable of at the beginning of the competition.
Although we ended in 25th place after the qualification matches, we were chosen by Alliance 6, 5014 Breakerbots and 2102 Paradox as their second pick for the playoffs. Unfortunately, we were eliminated in our matches of the playoffs, but we were able to practice defense against some of the higher ranked teams at the regional.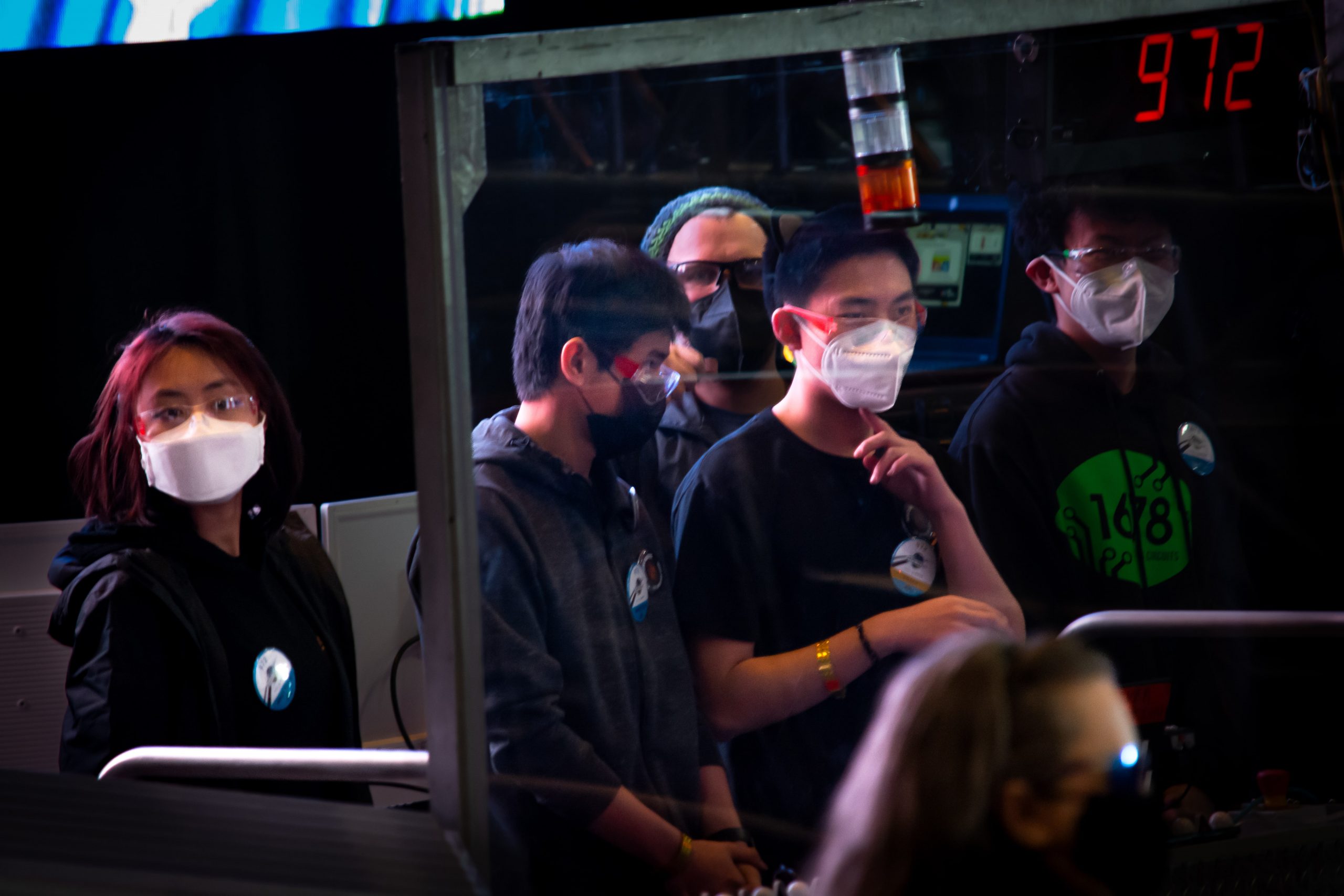 All in all, the first regional was a great success for the team. Despite our placement and early elimination in the playoffs, we explored the capabilities of our robot and gained invaluable game experience. As we move forward toward our next competition, we are sure to begin refining our designs and optimizing our strategy.