After 2 years without attending any competitions, Team Iron Claw is finally back for a proper FRC build season! 
On Saturday, January 8th, we gathered in the robotics classroom—with masks of course—to watch the FRC Kickoff Twitch Stream, expressing amusement at the blatant Ford advertising and surprise at the fact that human players can score during auto by throwing game pieces into the goal. 
The 2020 FRC game, Rapid React, consists of two main components: depositing cargo (oversized tennis balls) into the high or low "hub" and climbing the rungs in the hangar (similar to a set of monkey bars). And as mentioned, human players can score by throwing cargo into the hub during the autonomous period. Compared to 2019 and 2020, this year's game is significantly simpler, allowing us to hopefully spend more time refining mechanisms and testing our programs.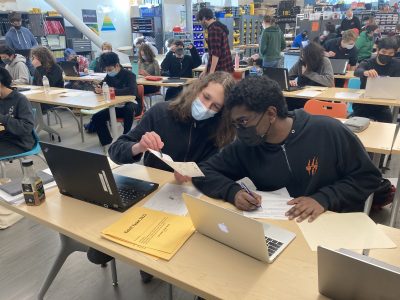 Over the next few days, we split into smaller groups to discuss game strategy and potential robot designs before reconvening and deciding on the general direction we want to take: prioritizing consistency and reliability over complexity. On Friday, we once again split into smaller teams to begin prototyping the designs we agreed on, work on the electrical board, and program basic drive code.
We are a little behind schedule, but by next Friday, all designs should be prototyped for the DVC (Design Voting Committee) to vote on and decide on a final robot design.